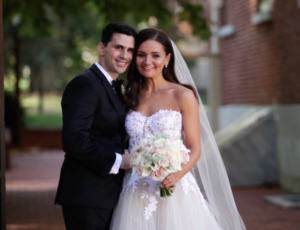 Perri and Adam shared a beautiful wedding day at the Westin in Philadelphia, surrounded by their family and friends. Throughout many speeches, their family members had a lot to say about Perri and Adam. Everything was so heartfelt, you could feel the love and sincerity of each speech. The speech that pulled us in the most, however, had to have been Perri's father's speech. "Your relentless approach to life makes me one proud father." When Perri's father saw his daughter in her wedding dress, they were both brought to tears. It was a beautiful and emotional moment for everyone
Perri's first look with her future husband, Adam, was just as emotional, but with a little more fun. Perri came up behind him in a hug instead of going for the traditional first look. This seemed to make the moment all the more special. The two shared this intimate moment, and proceeded to their ceremony at the Westin.
Perri and Adam shared personalized vows to each other, and part of Perri's stuck out the most. She said, "I see these vows as privileges, not promises. To laugh with you, cry with you, and love you forever with all that I am and all I ever will be." Perri and Adam made it easy for our Allure Films team to capture their wedding day. They love each other with such ease, that everyone can tell this will last forever.
We were joined by our friend from Baiada Photography to capture this wedding day. During the reception, EBE Talent's LA Starz entertained the crowd. Everyone danced and celebrated with the couple for such a spectacular day. We were so happy to be able to capture all of the heartwarming moments from Perri and Adam's wedding.
Mazel Tov Perri and Adam! We wish you a life filled with more happiness and laughter.
Click here for more information on Allure Films' wedding videography packages