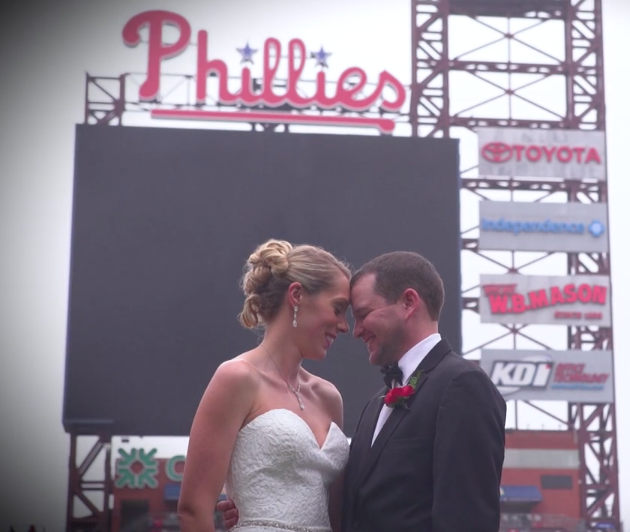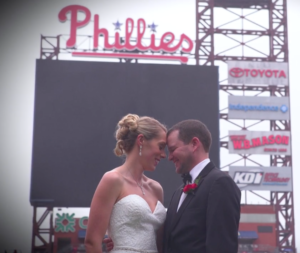 On their wedding day, Kelly and Scott became their own team in Citizens Bank Park, home of the Philadelphia Phillies. Filled with excitement, the couple could not wait to get married in their favorite team's home field. The sporty couple had their beautiful ceremony in the Phillies' Hall of Fame.
Before their big day, the two met in middle school and have known each other for sixteen years. They met as children and grew up together and into a wonderful couple. Kelly held back tears as she read her heartfelt vows to Scott, while Scott reminisced on their first meeting. As soon as they were announced husband and wife, their guests cheered and waved Phillies rally towels to celebrate.
After the ceremony, the party relocated to the Diamond Club for the reception. The baseball theme went into every detail of their wedding. Guests signed notes to the bride and groom on a replica of home plate and a baseball bat adorned the top of the wedding cake. The Phillie Phanatic even joined in on the fun to dance with guests and help Kelly and Scott celebrate their special day.
Allure Films was able to film the unique ceremony and reception. We were even able to get some exclusive clips in the Phillies' locker room.
We wish the best of luck for the new team! Congratulations Kelly and Scott!
Click here for more information on Allure Films' wedding videography packages