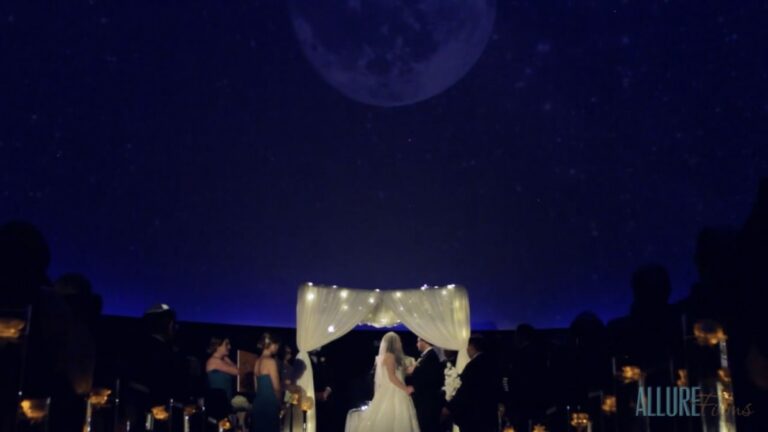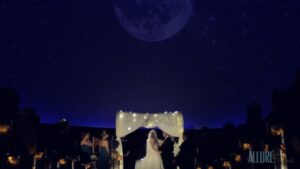 You could say our Allure Films crew was blinded by science and love on Nikki & Jordan's wedding day. Not everyone gets to marry the love of their life under a sky full of stars and a full moon, but at the Franklin Institute, anything is possible!
It was quite the experience for our team to document the couple's wedding ceremony in the Franklin Institute's Fels Planetarium. This particular ceremony was unique in many ways other than the awe-inspiring location. The bride and groom's sweet vows to each other incorporated their Jewish and Gaelic heritages, and it was clear that they were truly written from the heart.
The ceremony was followed by a cocktail hour in the museum's Electricity exhibit, where wedding guests noshed on incredible bites catered by Frog Commissary. This cocktail hour was an equally "electrifying" experience for our filmmakers and the guests – friends and family watched in amazement as they literally lit up the sustainable dance floor with their moves!
This is one of the things that we love the most about one-of-a-kind venues like the Franklin Institute. We're big fans of spaces that engage guests, allowing them to feel like they are a part of the big day in more ways than as just a spectator. At the Franklin Institute, Nikki and Jordan's friends and family were able to participate in activities that were fun, educational, and exciting as they wandered the halls during cocktail hour.
Carl Alan Floral Design was behind all of the stunning floral arrangements, from the bride's bouquet, to the table centerpieces and more! For the reception, we joined the guests in Ben Franklin Memorial room, where the infamous Founding Father himself looked on as everyone danced the night away in celebration thanks to great sound provided by Synergetic Sound.
Congratulations Nikki & Jordan, and best wishes for a fun-filled future together!
Contact a representative from Allure Films today to learn more about our wedding videography packages.