« Back to Location Films
Ballroom at the Ben
The Beauty of the Ballroom at the Ben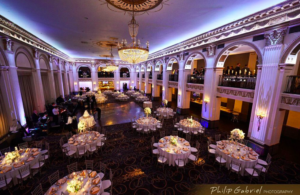 Finley Catering shows their talent again with their venue, the Ballroom at the Ben. This venue encompasses elegance and charm with it's European-inspired architecture. Magnificent archways surround the room and intricate style details are everywhere you look. Also, the high ceilings, brilliant chandeliers and large, ornate pillars will take your breath away. As a result of this modern-style, there are many dramatic photo opportunities. With everything tied together, a Ballroom at the Ben wedding looks straight out of a painting.
What Makes This Venue Unique?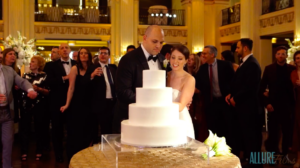 Named after Benjamin Franklin, the Ballroom at the Ben sits in the heart of Philadelphia's history. While the building itself has been around for decades, the Finley Catering team made recent renovations. It is no surprise as to why this is one of Finley's most popular venues. The architecture alone makes this venue stand out but there are a few things that make it even more special.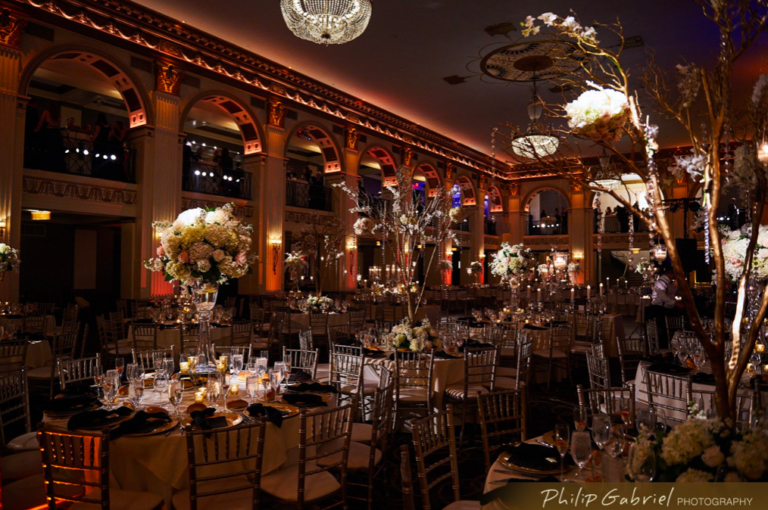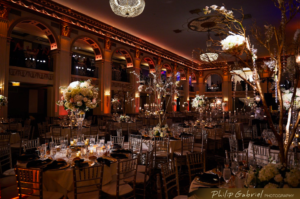 For instance, did you know that the Ballroom at the Ben was featured in "Silver Linings Playbook"? You can enjoy your wedding in the same ballroom that Bradley Cooper and Jennifer Lawrence danced on in the movie. Also, the Presidential Summit Luncheon was once held here. The President and Vice President, Governors from across the country and numerous celebrities attended this prestigious event. You'll definitely have bragging rights by having a Ballroom at the Ben wedding.
Finley Catering at the Ballroom at the Ben

In addition to the spectacular venue, Finley Catering is unmatched when it comes to cuisine and service. They have cuisine fit to anyone's taste. During your Ballroom at the Ben wedding, your cocktail hour is on the mezzanine. You and your guest can gaze down on the grand ballroom while enjoying cocktails and hors d'oeuvres. Overall, The Ballroom at the Ben will personally fit to your needs and make your wedding dreams come true.
Dreaming of a gorgeous wedding in Center City? Book your big day at the the Ballroom at the Ben, and make sure you have the best videographer in the region there to capture every second of it! Click here for more information on Allure Films' comprehensive wedding videography packages.
To get more of an inside look on what it feels like to have a wedding at the Ben, read all about Crystal and Giuliano's Glistening Wedding and Abigail and Drew's Center City Wedding