« Back to Blog
Sparks Flew & Fires Danced At This Phoenixville Foundry Wedding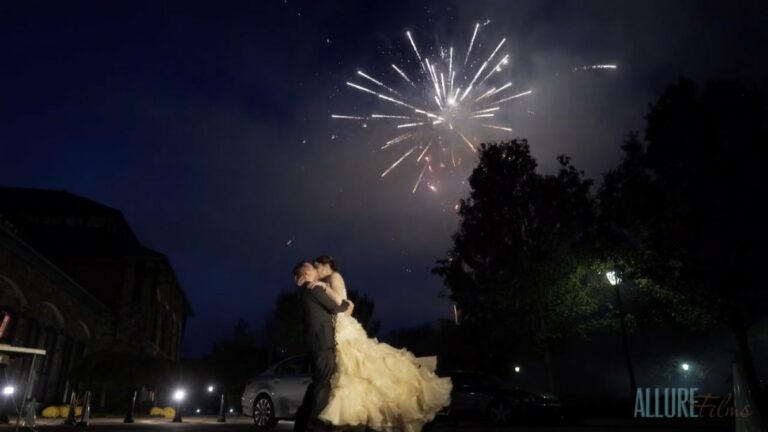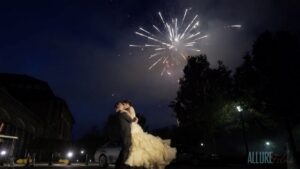 For Heather-Anne and Jules' wedding, the Allure Films crew found ourselves back at the Phoenixville Foundry for an evening of love, laughter and fire dancing. That's right, fire dancing!
Aside from each other, this bride and groom share a passion for fire dancing. Talk about upping the entertainment ante for your guests! We bet it was the first time many of the couple's guests got to enjoy such riveting acts at a wedding. It was such a privilege for both our filmmakers and for the photographers from Philip Gabriel Photography to capture these amazing performances.
The wedding began with the couple's non-clergy ceremony before their friends and family in the venue's lovely Sculpture Garden. The Foundry's Sculpture Garden provides a perfect ambiance for an outdoor sunset ceremony. For those who don't know, a non-clergy wedding is when the bride and groom officiate their own marriage without a third party clergy member. This allowed for the bride and groom's vows to be truly their own, giving them the chance to reflect on their love and devotion to one another.
We also want to give an honorable mention to the bridal party's twist on the traditional bouquet. Instead of holding a full floral bouquet, the bride walked down the aisle holding a lantern that lit her way, designed in collaboration with the couple's floral designer Carl Alan Designs. Truly a unique touch!
At the reception, the dance floor of the Phoenixville Foundry's Cupola Ballroom was packed thanks to fabulous music by the Silver Sound Entertainment. To close the celebration, Heather-Anne and Jules had surprised their guests with the perfect ending to their big night with a beautiful firework display. This was truly a wedding full of sparks in every sense of the word.
Congratulations Heather-Anne and Jules, and here's to a lifetime together filled with love and adventure!
Contact Allure Films for more information on our wedding videography packages.