Wilmington, Delaware  | Allure Films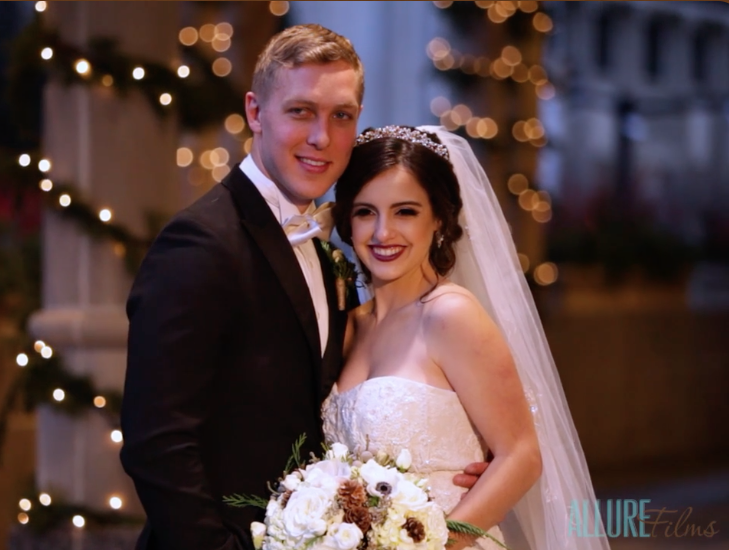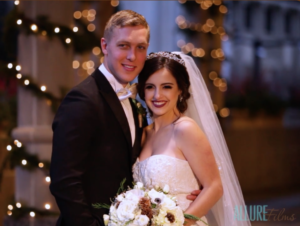 Diana and Curt celebrated their glamorous wedding at Hotel Du Pont in Delaware. Our Allure Films team supplied them with our videography skills to capture their day on film. Now looking back, they can relive all of their beautiful wedding day memories.
At the start of their day, Diana and her bridesmaids began prepping for the event. In matching floral robes, everyone bustled around getting ready for the celebration. Diana's love of florals showed even more in her gold sparkling and flower print heels. The final step of getting ready is always the most important: the dress. The wedding dress is a seemingless transition from fiancee to bride. With a little help from mom to finish getting the dress on and the veil on her head, Diana was ready.
Before going out to start the ceremony however, Diana's father came to see her for the first time in her wedding attire. He was all smiles as he saw his daughter for the first time, and seemed to be fighting back some happy tears as well. At the reception, Diana's father emphasized "Today I did not give my daughter away, I simply walked her down the aisle." He followed this up by stating that their family welcomed Curt in as the "starting quarterback" to Diana's team. A wedding is exactly that, a team effort. It is two people merging their families together to create an even better team of support and love.
After being walked down the aisle, Diana met Curt for the start of their ceremony. Hotel Du Pont was beautifully decorated in a wintery theme. Cream colored flowers, evergreen sprigs, and pinecones lined the aisle. Diana's bridesmaids also wore dark green gowns to match. The venue gave Diana and Curt the perfect backdrop to exchange their vows.
Diana and Curt prepared personal vows to exchange with each other, and both shared a common theme. Curt started saying that he will always be Diana's happy dancing partner, patient husband, and loyal, faithful, and loving best friend. Diana ended her vows with "and most importantly you're my best friend in the entire universe." Each set of vows emphasized what a spouse should be: a best friend.
Finally, the officiant proclaimed Diana and Curt husband and wife.  The two happily made their way back up the aisle to begin their reception. Upon entering, Curt carried Diana through the open doors. Diana cheered and waved her bouquet in the air. The guest clapped for the newlyweds and began the party.
During the reception, BVT Live entertained. Everyone danced with a mixture of smooth and silly moves. Most importantly though, everyone had a great time celebrating Diana and Curt's special day. Working alongside us, our friends from Philip Gabriel Photography captured amazing photos for the bride and groom. We are so happy that Diana and Curt will be able to look back on their wedding film and photography from this day to relive all of these memories.
Congratulations Curt and Diana! We wish you many more joyful days together. Thank you for choosing us as your wedding videographer. We can't wait to see where life takes you both!
Click here for more information on Allure Films' wedding videography packages.