« Back to Blog
Watching Dreams Come True At Erica & Steve's Curtis Center Wedding
Every bride dreams of the dazzling day when she'll finally get to say "I Do" to the love of her life. Allure Films was able to capture Erica & Steve's dream come true, when they exchanged vows at The Curtis Center in Philadelphia!
From beginning to end, the entire day was filled with sweet moments. One of our personal favorites was the moment when Steve saw Erica in her wedding dress for the very first time. It was wonderful to see such a beautiful moment unfold. Steve was speechless!
After their first look, Erica and Steve took us on a scenic tour of the city, where we captured plenty of breathtaking footage of the couple. The love and energy that these two share could be felt by everyone who saw them.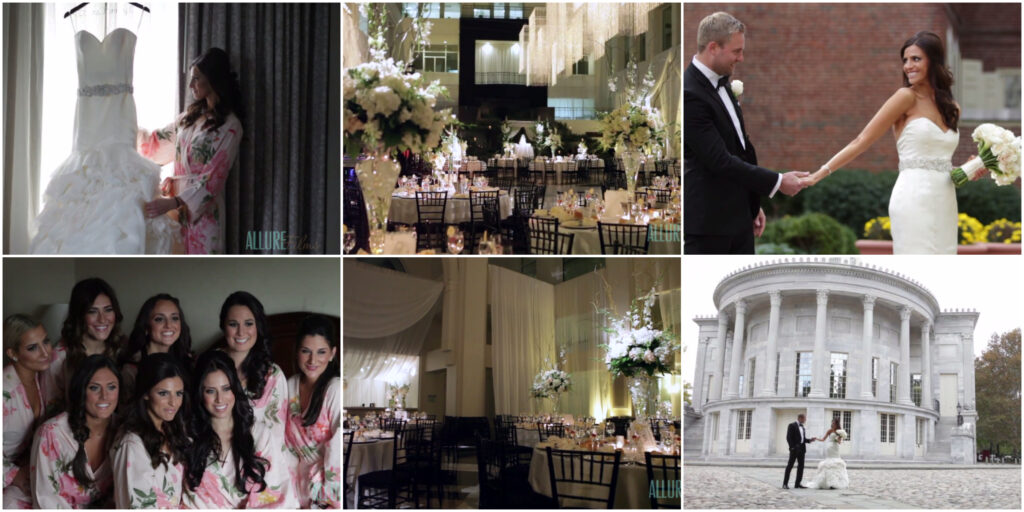 When we stepped into The Atrium at Curtis Center for the ceremony, we were completely blown away by the stunning décor by Carl Alan Floral Designs. They always make every last detail amazing, whether big or small. The Curtis Center the perfect venue for this adoring couple.
As always, BVTLive's very own Jellyroll kept the party going all night. It's always a pleasure enjoying their musical talent while capturing footage of guests celebrating at wedding receptions. They always find a way to make our job even more enjoyable than it already is (and we didn't think that was possible!)
Enjoy this glimpse into Erica & Steve's beautiful wedding day, and give Allure Films a call if you'd like to have our team capture your big day!
Click here for more information on Allure Films' comprehensive wedding videography packages.
Philip Gabriel Photography | BVTLive! – Jellyroll | Carl Alan Floral Designs | CEG – Atrium at Curtis Center