« Back to Blog
Overbrook Golf Club Wedding Reception Video
A Church Wedding with an Outdoor Overbrook Golf Club Reception
Getting Ready at Overbrook Golf Club
Allison and Adam's wedding day started with the two bustling around behind the scenes, getting ready at the Overbrook Golf Club. In matching robes, Allison and her bridesmaids prepared for the day while sipping on champagne. After hair and makeup, Allison took one last look at her wedding dress before taking her final step in getting ready.
Meeting the Father of the Bride
After a final cheers with her bridesmaids, Allison tearfully opened some pre-wedding gifts and cards. Even though the day was just beginning, everyone was feeling the love and getting emotional quick. After wrapping up with her bridesmaids, Allison made her way downstairs to meet her father. At the bottom of the stairs, Allison's father exclaimed, "Oh my goodness, beautiful!" upon seeing his daughter in her wedding dress. They shared their touching moment, and then made their way to the church where her father walked her down the aisle.
At the end of the aisle, Adam awaited his bride to be.Each and every one of Adam's groomsmen smiled widely as they watched Adam meet his bride. The wedding party all looked full of joy seeing their friends come together as husband and wife.
Allison and Adam's Church Ceremony
The ceremony began with a sermon on the meaning of love between two people. Specifically, the sermon focused on love's endurance. A part that rings true in all marriages stated that the two must strive to "live a love that is kind and patient, not rude or inflated, love that rejoices with the truth that bears all things, believes all things, hopes all things, and endures all things, because that kind of love never fails." After the initial readings, Allison and Adam began to exchange vows. Adam wipes a tear away before placing a ring on his now wife's finger. Friends and family cheered on as they shared their first kiss as husband and wife.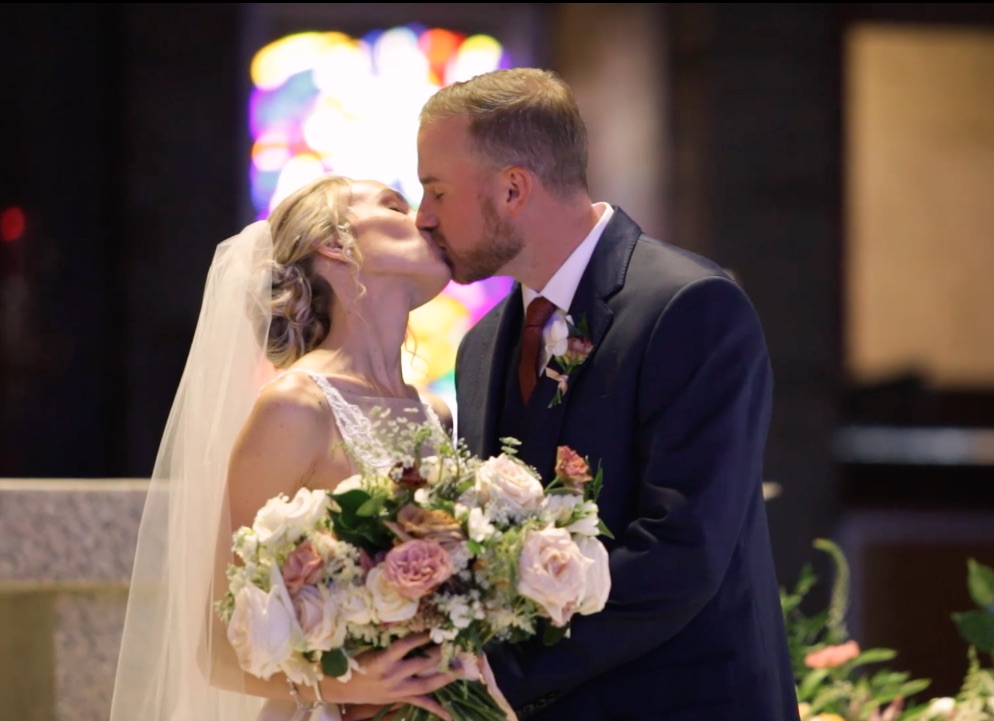 Arriving at Overbrook Golf Club
After the ceremony, Allison and Adam made their way to Overbrook Golf Club. They arrived in a luxurious, antique town car with "Just Married" on the back. Their stylish entrance put them right at the front of Overbrook's Clubhouse. This was a great spot for a photo opportunity from Azzolina Photography.  Though the clubhouse is regularly used for dinners and receptions, Allison and Adam celebrated their reception outside near the golf green. Before making their way to the reception, Allison and Adam had more photos taken in front of the manor with their family and wedding party.
After their montage of photos, everyone made their way to the reception. They continued the days celebration on the Overbrook Golf Club's patio area. This area overlooked the gold course with stunning views. One by one, friends and family stood up to make their speeches. Allison's father made jokes about when Allison first brought Adam over for dinner. He spoke about how easy it was to see how much Adam cared for Allison from those first few meetings, and he thanked Adam for "loving Allison as much as we do."
Weddings Speeches
Through a myriad of heartfelt speeches, everyone's settled on a common theme: teamwork. A great marriage comes from a couple that can work together like a team. Allison and Adam compliment each other and support each other's interests and feelings. After the final speech, everyone toasted to their favorite couple. The rest of the night progressed with increased laughter, love, and celebration for the two.
Congratulations again Allison and Adam! We wish you all the best for many years to come.
Click here for more information on Allure Films' wedding videography packages
If you enjoyed this article and want to read more about what it is like to have a wedding at the Radnor Valley Country Club check out the following:
Romance Abounds at this Stunning Overbrook Golf Club Wedding
Love Fills The Air – Both Indoors And Out – At Meghan & Alexander's Wedding