« Back to Blog
Filming Those Unforgettable Moments Before "I Do"
While many people tend to focus on the vows, the ceremony, or the party at the reception, Allure Films' favorite part of wedding day is capturing the moments before the "I Do's."
During our initial meetings with Hallie and Sam, it was clear that they felt the exact same way. They were thrilled to have the Allure team there to film their Hyatt at The Bellevue wedding, and wanted to make sure we would be there extra early to film all of those touching moments leading up to their walk down the aisle.
The weather couldn't have been more perfect when we arrived in Philadelphia on that gorgeous October day. Our crew ventured off to meet up with Hallie and Sam in their rooms as they got ready for the big day.
So many wonderful moments were caught on film that morning. As the beautiful wedding dress hung in the background, we followed the bride and her family around as they helped each other get ready. The way that Hallie's dad looked on as his daughter's hair and makeup were done was truly touching.
Our videographers also captured Sam hanging out with his groomsmen, sharing funny stories and laughing at memories captured on their phones as they put on their tuxedoes and fastened their bow ties.
It's these candid moments, caught on camera by Allure Films, that the bride and groom will cherish forever. They truly make each wedding video unique!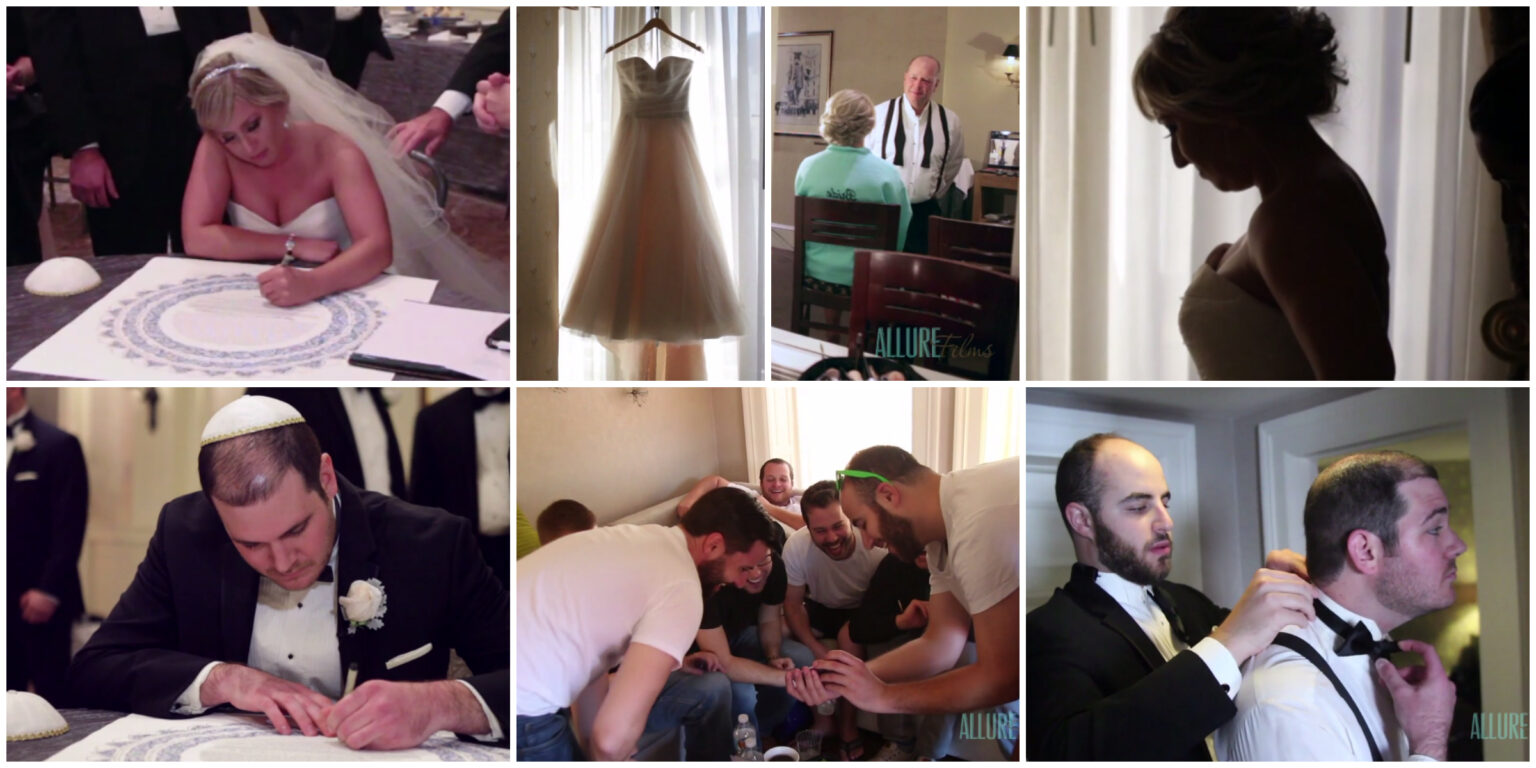 With the entire bridal party dressed to the nines, we ventured down to the ceremony hall. The traditional Jewish ceremony was held under a gorgeous huppah. The floral arrangements, provided by Carl Alan Floral Designs, were out of this world. They truly transformed the ceremony and reception halls into incredibly stunning spaces.
It was truly a pleasure to document Hallie and Sam's wedding day. We got to be a part of so many unforgettable moments. Congratulations, Hallie and Sam!
Click here for more information on Allure Films' comprehensive wedding videography packages!
Enjoy a short preview of this incredible day below:
Diamond Street Photography | EBE – Dreamtime | Carl Alan Floral Designs | Hyatt at The Bellevue