After months of planning and re-planning, Jessica and Sandy decided on a backyard zoom wedding. Due to the recent changes with COVID-19, the pair had to change their wedding date and location three times. Their passion for planning their wedding pushed them forward though. Nothing would stop these two from tying the knot. At the end of their planning, they had their ceremony in a relative's backyard. It ended up being just as special for the two, even if their original plans had changed so much.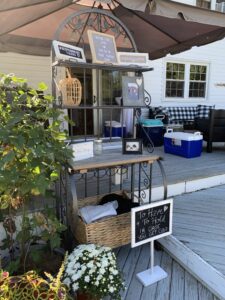 The front and back yard were decorate in autumn themed decor. Pumpkins and hay bales were artfullyplaced. The fall wedding details pulled the venue together for a beautiful set up. They even had a station for guests to grab covers in case of chilly weather with a sign stating "To have and to hold, in case you get cold."
The venue was covered in clever decorations like this. They also included a record player with a sign saying, "For the record, can we have your autograph?" This was for  guests to sign notes to the happy couple. Even the pool had floating letters in it for Jessica and Sandy!
For guests who could not attend, our team put together a zoom wedding video set up. Jessica and Sandy were able to connect with their guests via the video. It was a touching scene to watch them celebrate with people near and far. Those joining in were able to give their well wishes to the couple, and see great moments including their first dance.
We were so happy to be a part of such a wonderfulday. Even through the twists and turns of wedding planning, Jessica and Sandy still had such a beautiful and special day. It shows how much love and care there is out there. Jessica and Sandy's friends and family pulled their wedding together in a matter of days! The effort and unconditional love shown from their families is what brought this day together. Jessica and Sandy, we want to wish you a very happy marriage and hope you enjoy many more exciting days.  We cannot wait to share the upcoming wedding video!
Contact Allure Films for more information about our comprehensive wedding videography packages.